Energy Savings Calculator
New Equipment Energy Savings Calculator
Is your existing furnace or air conditioner still doing the job, but you're still interested in how much money you could be saving by upgrading to a new, more efficient unit? Are you trying to decide whether the additional investment that comes with a higher efficiency unit is worth it? Our Energy Savings Calculator is the perfect tool to help make these tough decisions! Follow the instructions below to see what you might be able to expect for energy savings with a new furance or air conditioner.


Instructions
Select COOL or HEAT with the toggle button in the upper right hand corner.
Change the "*Based On" option to Ohio
Select "Customize to Your Home"
Input the SEER or AFUE rating of your existing equipment
Input the $/kWh or $/ccf from your most recent utility bill.
Select "Done Customizing"
Use the slide button on the bottom to compare energy savings of new equipment.
Definitions & Information
SEER – Seasonal Energy Efficiency Ratio – Cooling output during a typical cooling-season divided by the total electric energy input during the same period. In other words…the higher, the better.
AFUE – Annual Fuel Utilization Efficiency – Season-long, average energy (heat) output divided by the total amount of fuel input. In other words…the higher, the better.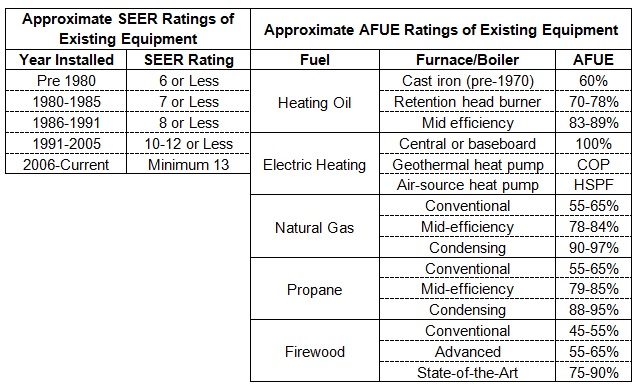 * SEER and AFUE Ratings were obtained from climatemakers.com and wikipedia.org
** Energy Savings are approximate only. Comfort Control cannot be held responsible if estimated energy savings are not attainable.